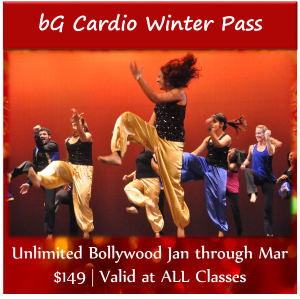 To celebrate the New Year, BollyGroove is offering a new unlimited Winter Pass for just $149. This pass will give you access to ALL classes from January through March.
Here are five benefits we want to share with you:
1. It saves you money, even if you are a light user! Let's say you just attend one BollyGroove Cardio class a week. For the period of January-March that means you'd be spending $195 in drop-in classes. Our Winter Pass is just $149, so you'd be saving $46. Big difference! If you attend two classes a week ($390 without the pass) you'd be saving $241. The more you use it the more you save, so why not take advantage?
2. It strengthens your commitment to fitness. Everyone comes up with exciting New Year resolutions about being healthier, losing weight, exercising more, etc. But without a commitment device that actually locks you into the desired course of action, the good intentions and resolutions tend to end up goind out the window. The Winter Pass is the perfect commitment device. By making a three-month investment in your health, you will be more likely to muster the discipline and dedication necessary to make 2015 the Year of Fitness.
3. Flexibility. Our unlimited Winter Pass is valid at ALL of our locations any day of the week, so no matter where you are in the city you'll find a place to exercise and have fun!
4. It helps you cope with the cold. Remember last year's winter? Let's not even talk about it. "BollyGroove Cardio is what helped me make it through the winter" says Katie Adams, one of our BollyGroove Cardio students. Take advantage of the unlimited classes and bring some warmth into your body and your spirit.
5. It can make you happier. Research shows that cardiovascular activity has important psychological benefits that affect our levels of happiness and wellbeing. Want to learn more about this? Read our article 3 Ways BollyGroove Cardio Makes You Happier