Bollywood Groove is a Chicagoland based Bollywood and Bhangra dance company. Our mission is to make these dance styles accessible to everyone. And by everyone, we really mean everyone! Whether you are Bolly-curious or Bolly-serious, we help you get your groove on with some catchy music and fun moves.
Classes for ALL!
We teach Bollywood Groove Cardio to adults and our unique BollyKids! program to kids as young as age 3.
Our cardio classes are known for being both incredibly fun and extremely effective. So come on by and we will make sure you groove and shake yourself to fitness!
Our BollyKids! program aims at teaching kids about different regions of India, language, culture etc., packaged together with the dance movements. The children establish a strong movement foundation while developing coordination, posture and grace that are all inherent to Indian dance.
Other Services
We also offer a host of other services including:
Bollywood Bachelorette Parties
Interactive Guided Dance Session at all Events
Bollywood/Bhangra Private Lessons
In The News!
Bollywood Groove has been featured on NBC, ABC, WCIU, Groupon, Sun Times, Elle Magazine and more. We are also the makers of world's first Bollywood instructional app for iPad and iPhone: Learn Bollywood Dance and Bollywood Fitness that has 75,000 users worldwide.
What are Bollywood and Bhangra Dances?
Bollywood dances emerged from India's Hollywood equivalent movie industry.  From folk and Indian classical to belly dance and hip hop, Bollywood captures it all. Bhangra is a folk dance from northern part of the country known for its energetic moves and is done to the rhythmic beats of Dhol.
The infectious music, the colorful costumes and the fun moves make Bollywood and Bhangra dances extremely vibrant and enjoyable.
---
About the Founders
bG is co-founded by Ajanta Chakraborty and her husband Vivek Kumar.
Ajanta is the creative side of the company and channels her love for all things Bollywood to her classes and performances while Vivek uses his business skills from his work at McKinsey & Company and his MBA from the Kellogg School of Management (Northwestern University) to oversee the strategy and operations of the company.
---
Ajanta's Dance Biography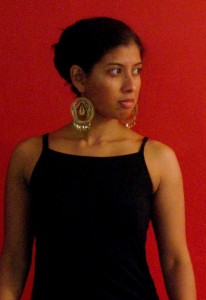 Ajanta Chakraborty has a Senior Diploma in classical Indian dance of BharatNatyam from Prayag Sangeet Samiti. She has extensive dance performance experience, beginning at age 5 and continuing till date.
Ajanta has years of experience teaching individuals at all different dance skill levels and currently is the main instructor at Bollywood Groove's Chicagoland location.
Ajanta co-founded Bollywood Groove in 2008 in California and since then the company has gone through many transformations. However, the mission of the company has stayed intact – providing a cultural exposure to Bollywood and other Indian dances in a way that it can be enjoyed by all individuals irrespective of their dance skills and prior knowledge to Indian culture/dance.
Ajanta strongly believes in providing a joyful experience through her instruction by creating a non-intimidating environment for all participants.