Make your kids B'day something to remember by making it a BollyGroove Kids! B'day Bash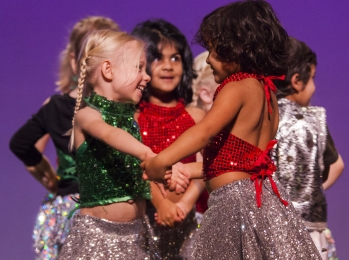 Get ready to shake, twist and hop to the rhythmic beats of Bollywood music! In BollyGroove Kids Birthday Bash, children will actively engage in various forms of movement through the exploration of another culture.
This party is wonderful for kids who have a lot of energy or a passion for dance! It is also an excellent multicultural learning opportunity for the children, as they will be exposed to the languages of Hindi and Punjabi, traditional Indian clothing, instruments and other props.
This party is ideal for multi-age groups.
Included in the package:
45 mins – 1 hour of dance session that provides an incredibly fun and interactive experience for the kids at a location of your choice.
Studio space provided on request (Chicago and Hoffman Estates.)
We also provide fun props such as bells, scarves, spots,  and sashes (availability dependent on the party size)
Indian Costumes Provided (availability dependent on the party size)
Performance at the end of the partyNote: We do not provide refreshments and decorations for the party.
Additional service: BollyGroove Interactive
The Instructor leads your guests into a 20 minute Bollywood dance experience. This is a fun, engaging activity for adults at the party!  Here's an example.
Please Contact Us for pricing information.