———————————————————————-
BollyGEMS – What is NEW with our kids program?
We are now consciously emphasizing on Immersive Learning meaning each session kids will improve upon and learn complex modifications of moves learned in the previous session.
Dance Year – The dance year will start with Fall session followed by Winter, Spring and an optional Summer session.
Can I still sign up one session at a time? YES, that option is still available.
Style track – Each class will follow one of 4 tracks: Punjabi | Gujarati | North Indian Folk | South Indian
and stay with it for the duration of the Dance Year. E.g. Shivalya Kids class might be on Gujarati track for the entire dance year. So each session, they will learn choreographies on various Gujarat-inspired songs.
Still very engaging and Fun! Thankfully, Bollywood has unlimited variety when it comes to songs and music. Two Gujarati songs can sound completely different from each other thus keeping the kids still very engaged.
Session Length – Extended to 10 weeks instead of 8. The price per class is the same – $15.
Fall session is already done. So how is the remaining year structured? We will do a shorter dance year – Winter and Spring 2015. Enrollment is now open. Please stay tuned for Summer session.
When will Annual Recital happen? – Right after Spring session – June 7th, 2015 at Athenaeum Theater.
Why the change? Because end of the day, you want your kids to not only sample Bollywood dance but feel great about doing it! It boosts their confidence when they see themselves getting better with time. Please note: we do not compare your child with anyone in the class. They are always encouraged to learn more compared to what they already know.
———————————————————————-
———————————————————————-
Welcome to Bollywood Groove™ Kids!
Dance, Culture & an Active lifestyle..
Our Bollywood Groove Kids! program focuses on teaching the language, culture and history of various regions of India via the characteristic dance of that region.
The joyful Indian music and fun dance movements create an incredibly enjoyable and stimulating environment for children where they not only learn about a new country but also grow into strong dancers with coordination, posture, grace and other movement fundamentals.
Bollywood Groove Kids! in Action
—————————————————————————————
Class Highlights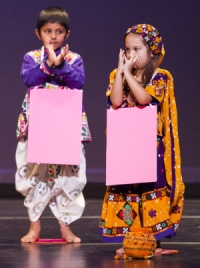 Strong use of props to break down complex moves  as well as to add authentic flair.
Culture and history taught through folklore and plays. Emphasis on Styling and Expression during dance performances as well as developing focus and confidence.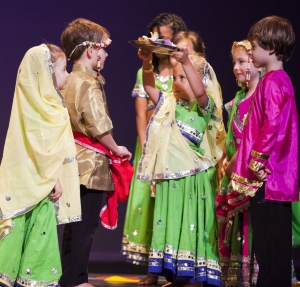 Class length is 45 mins for kids aged 3 to 5 years and 1 hour for older kids. Typical session is 8-weeks long.

—————————————————————————————
Bollywood Groove Partners