Please Note: You will NOT be shipped a pass against your purchase. Simply print the purchase receipt and bring in class to redeem. You will be given an actual card when you attend class for the first time.
Is this your first time? Apply promo code FIRST to get 10% DISCOUNT ON YOUR PURCHASE OF PUNCH CARD OR UNLIMITED PASS!
PLEASE DO NOT APPLY THE PROMO CODE TOWARDS A DROPIN.
---
Beat the Holiday Season Fitness Slump!!
Prepare AHEAD with our Holiday-Prep Special
6 weeks of UNLIMITED bG Cardio for the price of 4
Valid from Nov 1st to Dec 13th.
Valid at ALL Class and Locations!
Price – $65
---
Check out any class with this quick dropin! Valid at all locations and all classes for 1 dropin.
Price – $15
---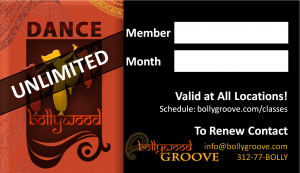 Unlimited bG Cardio classes! Valid at ALL locations!
Options – 30, 90 or 180 days
---

These punch cards are perfect for those busy schedules. They expire 4 months from the date of purchase, giving you plenty of time to use them up.
Options – 4, 8 or 16 class